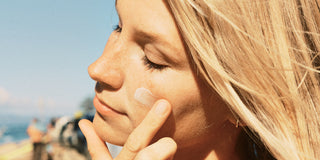 Thrive Regenerates Your Skin, Our Planet, and Local Farm Communities
You'll feel the difference of healthy skincare powered by our unique regenerative super-plants, plants that help restore degraded land and rebuild farm communities. With every purchase, you help to leave things better.
FREQUENTLY ASKED QUESTIONS
Yes, our products are all-natural formulas that deliver the same results without the undesirable side effects of synthetic ingredients & products. Our products are GMO free, vegan safe, not formulated with parabens, phthalates, SLS, petrolatum, synthetic fragrances, PEGs, or PPGs, or DEA/TEA.

The ingredients in our formulas are plant-derived, and meet the high standards of premium retailers. We protect our products with preservative systems that meet rigid standards for natural, efficacy and safety and we use those preservatives well below maximum use levels for safety. 
REGENERATIVE SKINCARE
POWERED BY PLANTS
THRIVE REGENERATES YOUR SKIN, OUR PLANET, AND LOCAL FARMER COMMUNITIES.