Apply serums & treatments for healthy, resilient, better-looking skin. Thrive's Vitality line targets your most vulnerable spots and your most pressing concerns to prevent damage & revitalize your skin.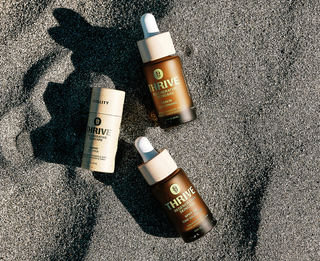 THRIVE NATURAL CARE: VITALITY
TELL YOUR SKIN'S STORY WITH CONFIDENCE
For all the adventures in your next era, prime your skin with Thrive Vitality for enduring skin health you can see.
Made with our unique, regenerative super-plants in plastic-free packaging, our Vitality line targets your most vulnerable areas to restore healthy, resilient, better-looking skin. 
Your skin — and the planet — will thank you.
SKIN RECOVERY SERUM
Prevent skin damage and restore your glow with Thrive's Skin Recovery Serum
Boost your collagen skin renewal superpowers, smooth pigmentation, and tighten delicate areas. Hyaluronic Acid teams up with Bakuchiol and multi-origin antioxidants to help skin bounce back from your latest adventures. It also energizes and hydrates your skin for an overall better complexion you can see.
AFTER SUN RECOVERY LOTION
A beach essential that delivers immediate relief to sun-damaged skin
Thrive's After Sun Recovery Lotion helps your skin recover for long-term health and wellness. Our regenerative plant extracts combined with Physavie, Jojoba, and Aloe deliver immediate skin relief while working overtime to restore your skin. Next time you enjoy a day in the sunshine, your skin will recover faster and healthier than ever before.
Explore our Treatment Collection