Powered by Plants
Our Ingredients
Thrive is superplant natural skincare that improves the planet, communities, and your skin. We combine the strength of traditional botanicals from Costa Rica into a powerful natural skincare experience.
These active ingredients are unique to Thrive's products. And they're more effective than the synthetic chemicals found in most skincare products. We are plant-powered and science-based effective skincare, we use no synthetics, and your purchase of each product supports rural farmers and restores degraded farmlands.
Juanilama
Used by indigenous people in Central and South America for generations to soothe irritation, the plant oil from the Juanilama leaf, native to our farms in Costa Rica, is an anti-bacterial and anti-fungal powerhouse with high levels of antioxidants that protect the skin. Juanilama is also an important part of our regenerative farms, acting as a natural pesticide for harmful insects.*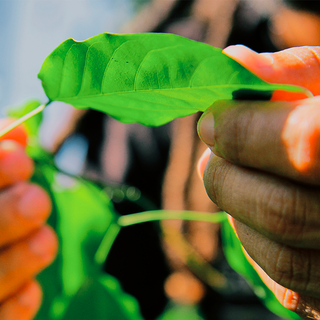 Fierrillo
Also used for generations for it's healing properties and native to our Costa Rican farms, Fierillo packs a strong antioxidant punch to promote healthy skin and has wound-healing and antibacterial properties that help restore and repair damaged skin. The Fierrillo vine is a cornerstone plant for our regenerative farms, boosting soil organic content and providing a habitat to increase biodiversity.*
Coralillo
A remarkable medicinal plant—Thrive's newest addition to our superplant blend—is packed with anti-inflammatory, anti-oxidant, and skin repairing benefits that help calm and restore sensitive skin.* Widely used by indigenous peoples through the tropics (the Mayans referred to it as their 'guardian of the forest') to treat a variety of skin ailments. On our farms, Coralillo helps improve soil health, prevent erosion, and provide food and shelter for native pollinators & wildlife.
ARABICA COFFEE
Exfoliates and provides an extra energizing touch to invigorate your day.
CARNAUBA WAX
Natural and gentle exfoliant alternative to polyethylene (PE) beads, removes dead skin cells and dirt particles. Helps to release trapped hair to avoid ingrown hairs.
JOJOBA
Luxurious, natural, gentle exfoliant to remove dead skin cells and dirt particles and to release trapped hairs that could cause ingrown hairs.
COCO-GLUCOSIDE
Derived from coconut oils and fruit sugars, this natural cleanser cleans the skin without over-drying.
MACADAMIA OIL
One of the highest plant-derived sources of palmitoleic acid, this oil provides protection against oxidation (a cause of premature aging) and helps to strengthen the skin lipid barrier.
SHEA BUTTER
Rich, natural butter improves skin moisturization with anti-inflammatory properties.
VEGETABLE GLYCERIN
From vegetable oils, this ingredient deeply hydrates the skin to prevent dryness or scaling and helps reduce irritation during the cleansing process.
ALOE VERA
Provides deep hydration, with wound healing, antimicrobial and anti-inflammatory properties.
BURDOCK ROOT
Antibacterial, anti-fungal, and anti-inflammatory properties protect & calm skin.
ARGAN OIL
Rich in fatty acids and Vitamin E, this oil is a great skin moisturizer that also provides antioxidant benefits and helps to improve the skin barrier function.
SUNFLOWER OIL
Rich in fatty acids, Vitamin E, and antioxidants, this oil is a natural and super-effective moisturizer, provides great nutrition for your hair, and conditions and restores your hair and skin.

BAOBAB OIL
From the Baobab Tree (Tree of Life) in Africa, this oil is an intense moisturizer for hair that softens coarse beard hair. This oil also helps moisturize, restore, and nourish your skin.
*These statements have not been evaluated by the Food and Drug Administration.This product is not intended to diagnose, treat, cure or prevent any disease.