TELL YOUR SKIN'S STORY WITH CONFIDENCE
VITALITY
For all the adventures in your next era, prime your skin with Thrive Vitality for enduring skin health you can see.
Made with our unique, regenerative super-plants in plastic-free packaging, our Vitality line targets your most vulnerable areas to restore healthy, resilient, better-looking skin. 
Your skin — and the planet — will thank you.
THRIVE NATURAL CARE: VITALITY
We are raising the bar with our 3 new Vitality products. Clinically-proven to minimize the aftermath of sun, stress, and life so you can flourish.
Revive Eye Stick
5-in-1 Eye Solution
Harnessing the power of our regenerative plant superstars, Patens and Chica, our eye balm revives the skin around your eyes. Paired with loyal sidekicks Arjuna Bark and Escin, which promote drainage and circulation, that work to reduce puffiness and dark circles. This eye stick is unstoppable.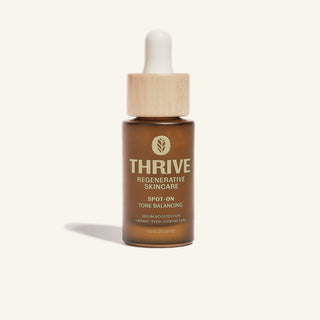 Spot-On Tone Balancing Serum
82% of users say skin tone is more even
Our balancing serum evens out the appearance of dark spots, without affecting your natural skin tone, with an innovative microalgae and our unique regenerative super-plants. Fruit extracts make dull skin glow. Suitable for every skin tone, add it to your daily routine for healthier skin, ready for your next adventure.
Renew Skin Firming Serum
3 out of 4 say skin is firmer & tighter
Our firming serum rebuilds skin elasticity and reduces the appearance of fine lines to restore your skin's natural vitality with the help of our unique, regenerative super-plants and natural skincare superstars Bakuchiol and Acmella. Use in the daytime and without fear of irritation. Enhance those signs of your rich story.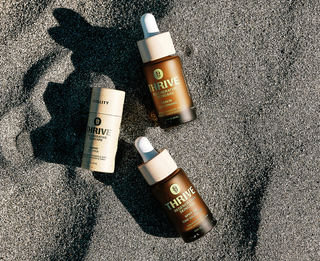 Restore Your Skin's Natural Vitality
Clinically-Proven Clean Formulas
There's nothing wrong with wanting to look your best. But for us, that means healthy and regenerative and without skin-damaging side effects.
We designed our Vitality products to celebrate a life well-lived, out in the light of day and without fear of irritation. 
Unlike many conventional products, our Vitality line is supercharged with antioxidant-rich plant power from Chica, as well as collagen boosts from Acmella extract and Bakuchiol for lasting results (just to name a few). Powered by our unique regenerative super-plants, our products target your most vulnerable spots to help restore elasticity, even skin tone, and revitalize your skin.