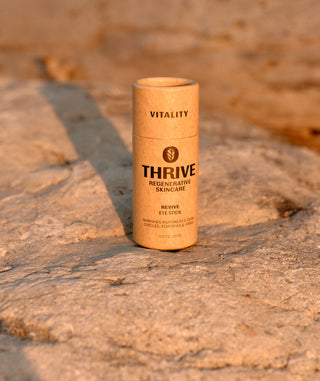 Our Vision for Regenerative Business Includes Packaging
Our goal is to make the best skincare, using a fully-regenerative business model. In addition to farming, this regenerative vision includes packaging.
We're asking ourselves: 'What would regenerative packaging look like? How could regenerative packaging make our impact—and our customers' impact—net positive to 'leave things better'?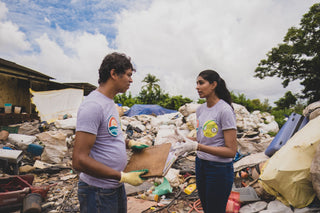 Why Plastic Matters to You and to Thrive
Packaging is currently the largest part of our footprint. In the US, less than 1 out of 10 plastic products get recycled. Which means that most plastic we use ends up in landfill or is burned. Totally unsustainable and shortsighted. We don't like that one bit. Nor do an increasing number of our customers, who want sun protection and great looking skin—without any plastic guilt.
So we see our journey with plastic packaging as important to our values, to our success as a business, and also something that many of our customers want and value.
Our Approach to Plastic
Fixing a company's plastic footprint is a really difficult problem to solve. So we've taken a two-step approach to getting to a better place: (1) things we can do today; and (2) a longer-term plan to get us to fully regenerative packaging.
Today, we've taken several concrete steps to reduce Thrive's (and our customers') plastic impact: transitioning some of our products out of plastic and into paper and glass (see our Vitality line); using recycled plastic instead of virgin plastic; fully quantifying our full business plastic use; and, more recently, partnering with a leading non-profit RePurpose Global to certify Thrive as Plastic Negative (more on that below).
Longer-term, we have mapped out a five-step path for our business over the next seven years to become truly regenerative in our packaging footprint:
Transition all possible primary packaging out of plastic and into paper or glass/other by 2025, AND
Transition all remaining primary plastic tube & bottle packaging to >85% PCR by 2025
Transition multi-material pumps to single material (ideally non-plastic) or no-pump by 2026
Transition all labels from plastic to paper-based by 2024
Define, map and milestone path from current Thrive packaging to fully Regenerative by 2030
PROUD TO BE PLASTIC NEGATIVE
We're proud to share that, as of today, every Thrive bottle purchased by a customer now pulls two plastic bottles from ocean or land-bound waste. The Plastic Negative certification we've achieved through partnership with our new friends at RePurpose Global means that our customers now have an even bigger "positive footprint" when using Thrive—by supporting regenerative farming and by helping solve the global plastic problem.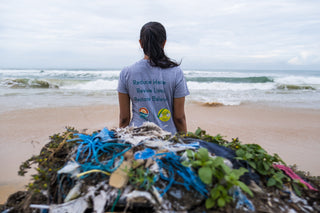 What We & You Can Do Today
Still, its important for our customers to use and advocate for better recycling in their communities. And its important for companies like Thrive to keep pushing the envelope on packaging so that offsets are no longer needed to achieve our regenerative impact.
For more information: